Ceramic Pro is a multi-layerable, clear, liquid nano-ceramic coating. When cured, this technology will transform itself on the surface to a permanent, durable yet flexible glass shield. Ceramic Pro can be described as an additional clear coat, with 3 times the hardness and self cleaning properties.
CERAMIC PRO COMPARED TO THE REST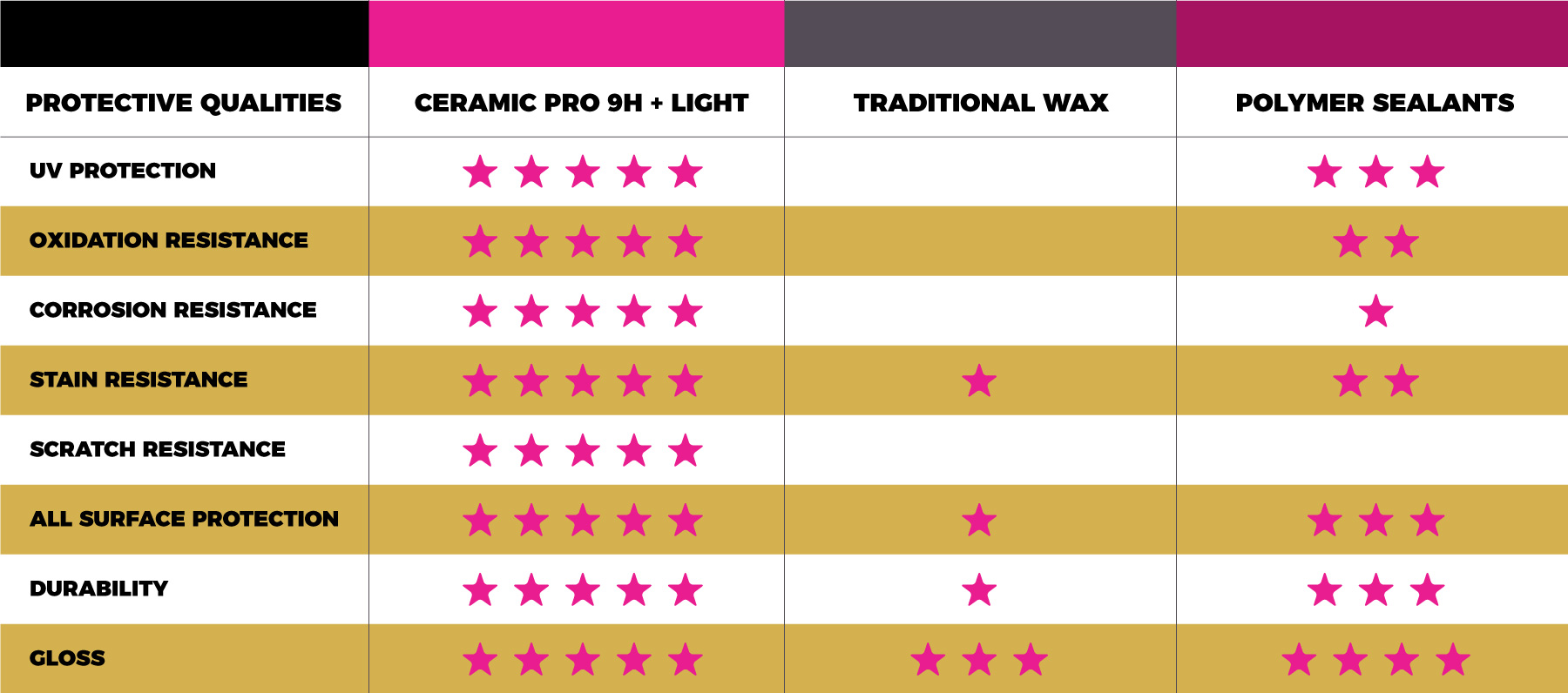 WHY CERAMIC PRO ON MY VEHICLE?

WHAT YOU THINKING
Is Ceramic Pro safe for my paint or clearcoat?
Yes, Ceramic Pro Products are formulated to be safe for all surfaces including your paint. Ceramic Pro will not damage your clearcoat or paint and will not void any manufacturer warranties.
Is Ceramic Pro safe for other surfaces of the vehicle?
Yes, one of the great properties of Ceramic Pro is its versatility and its ability to protect any surface you choose.
My car has scratches and other pre-existing damage, can Ceramic pro be applied over this?
No, our Trained and Certified professionals are experts in the art of surface correction. Our professionals will restore your vehicle to the absolute best condition they can prior to Ceramic Pro application
What do I use to maintain my Ceramic Pro coating?
That's the great thing about Ceramic Pro Products. Water and a mild soap or dish soap will do the trick. Good bye harsh chemicals, clay bars, etc. Even glass cleaner or a No Rinse lubricant/wash will work to quickly and easily maintain your coating.
Does this product require annual servicing?
Yes. To maintain your warranty, you need to attend an annual service. This is to ensure the Ceramic Pro performs properly for the entire length of the warranty. If an annual inspection is missed, the warranty defaults to the lesser package at the time of the missed annual inspection. i.e. A Gold (Lifetime) warranty becomes a Silver (5 year) warranty when an annual service is missed.
Can Ceramic Pro be removed from my vehicle easily?
No, Ceramic Pro cannot be washed away like a wax or sealant giving it long lasting results. You must use abrasion (wetsand/compound/polish) to remove Ceramic Pro.
How long does Ceramic Pro last?
Ceramic Pro Gold Package has a Lifetime warranty and is verified through Carfax. That's longer than any wax or sealant on the market!
Will Ceramic Pro protect me from rock chips?
Ceramic Pro is a Silica based product, meaning it is a "glass" coating. Ceramic Pro adds some rock chip resistance, but it can still get rock chips from larger stones and high speeds. The glass windshield on your vehicle will still get rock chips, just much less often than your clearcoat.
For a quotation